Reopening Plans & Procedures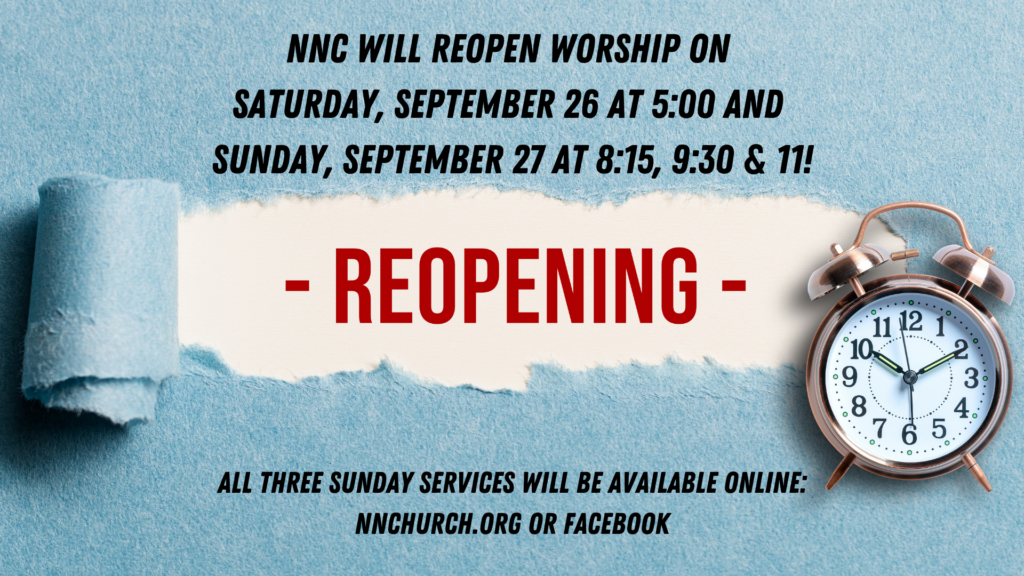 We are currently working on plans for how and when in-person groups and events will resume again on our campus. In the meantime, we are making the most of every one of our digital environments. To view information on our safety plans and protocols, ministries, and future plans, please click on the images below.
Virtual Worship
Online Worship
Virtual services: Sundays at 9:00 a.m. (Contemporary) and 10:00 a.m. (Traditional)
Services are available on our NNC LiveStream.
Questions?
Do you have questions regarding our reopening? Would you like to speak with a Pastor? Click here to contact us.
New Normal
Questions about what to expect when we reopen?
As we make plans to return to in-person worship, click here to view our new protocols.
Our Commitment to Your Safety
During this time we are asking everyone who calls North Naples Church their home to help by doing their part. An important aspect of being able to regather for worship is each one of us doing our part. Let's work together to stay healthy. At this time, the following measures have been introduced and will be updated as we move forward:
Masks and temperature checks will be required to ensure the safety of all participants

If you do not feel well,

have potentially been exposed to COVID-19 or have traveled to a hot spot, as determined by the State of Florida, we ask that you please stay home and join us online at nnchurch.org

Guests will only enter the Sanctuary after passing through the Temperature Check Stations

and exit only when the Ushers release pew by pew

Congregational singing is discouraged

Please wash your hands and use hand sanitizer often

Maintain a safe distance of six or more feet between your party & others

Please follow the instructions given by the Pastoral Staff, Safety Team and Ushers. Ushers will determine participants' seating location and will dismiss each pew accordingly. When exiting the Sanctuary, we ask you to please refrain from congregating in the Narthex or Breezeway to ensure

proper social distancing

Please respect the personal health decisions of others 
Health Screening
Everyone attending in-person worship, including pastors, staff, volunteers and guests, will have their health screened upon entry.
Enhanced Cleaning
Our Facilities team will sanitize all Sanctuary surfaces prior to and after every service.
Masks
Masks will be required of all participants entering the Sanctuary.
Our teams have been hard at work thinking of new and creative ways to stay connected through our current situation and updated protocols. Here's a little of what you can expect in each of our ministry areas: