North Naples Men are committed to growing deeper in their relationships with God and building friendships.
North Naples Men meet for a prayer breakfast every Thursday at 7AM. Below please find  a summary from this week's conversation.
You can join the conversation by contacting Pastor David Ames: 239-450-1429.
Todays Bite is about forgiving from Lee Strobel's book, God's Outrageous Claims. Jesus tells his followers to love our enemies, rivals, dissenters, hard to get along withs, "…we aren't being asked to LIKE the person… but to treat them AS THOUGH we like them – because that is a decision of our will."
Forgiving someone who has hurt you has emotional, physical, relational, spiritual health, as well as kingdom benefits. We don't so much hold a grudge as the grudge holds us. Anger denies joy along with all its good endorphins and their healing power. It isolates and alienates us, and erodes relationships as it shortens and damages our own life. It keeps us from drawing others closer to God since an angry bitter person cant reflect God's image.  One study surveyed male U. of North Carolina medical school grads on feelings of anger and forgiveness, then followed them for 25 years. "The physicians with hidden hostilities died at a rate 6 times greater than those who had more forgiving attitudes."
Think back…I really do try to get it right, but sometimes I fail badly. If I have offended you, please, forgive me. Maybe we can start over.
"Do all that you can to live in peace with everyone." Romans 12:18
Father in Heaven, forgive me my offenses as I forgive those who have offended me.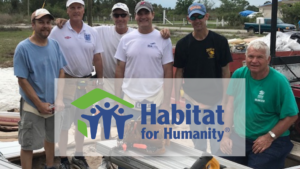 Habitat Build 
North Naples Men serve together the third Saturday of every month building homes with Habitat for Humanity.
For more information on getting connected to the United Methodist Men and/or North Naples Men, please email Pastor David Ames.