North Naples Men are committed to growing deeper in their relationships with God and building friendships.
North Naples Men meet for a prayer breakfast every Thursday at 7AM. Below please find  a summary from this week's conversation.
You can join the conversation by contacting Pastor David Ames: 239-450-1429.
The conversation turned to what someone must do to have eternal life.
Are there certain phrases you have to say or recite as in a wedding vow?
Do you have to follow a process or perform a ritual like baptism?
It seems like a lot of people – well-meaning people – believe that being saved is about doing certain things or saying certain words.
But what about the ancient patriarchs, babies, and the thief on the cross?
Abraham at 75 trusted in God and followed.
Moses trusted in God and led a nation out of captivity. King
David was as human as anybody and more self-centered and corrupt than most.
But he listened to God for wisdom, and when he fell, he fell before God for mercy and grace.
We get too theological sometimes, and it divides us.
We want directions and steps to follow and words to say but its not about what we say or do. Its about who God is.
We just gotta have faith.
"The Lord is near to all who call on him, to all who call on him in truth."  Psalm 145:18
Lord God, I trust You but help me to trust You completely.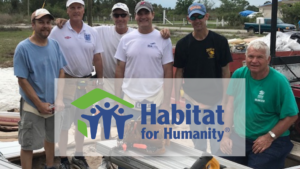 Habitat Build 
North Naples Men serve together the third Saturday of every month building homes with Habitat for Humanity.
For more information on getting connected to the United Methodist Men and/or North Naples Men, please email Pastor David Ames.