North Naples Men are committed to growing deeper in their relationships with God and building friendships.
North Naples Men meet for a prayer breakfast every Thursday at 7AM. Below please find  a summary from this week's conversation.
You can join the conversation by contacting Pastor David Ames: 239-450-1429.
All 4 of the gospel writers described Jesus' entry into Jerusalem as a joyous parade that erupted spontaneously with more and more people joining in as they heard the commotion and learned Jesus was coming.
Who on earth would inspire that kind of festive welcome if he or she rode into this town today? And what went so terribly wrong that week, that they called for him to be tortured and crucified?
The thing is, generations before Jesus, great prophets had predicted that the Messiah would enter into Jerusalem, by that very gate, sitting on a donkey. Even that detail was described in Zechariah 9:9:
"Shout in triumph, O people of Jerusalem!
Look, your king is coming to you.
He is righteous and victorious,
yet he is humble, riding on a donkey—
riding on a donkey's colt."
But the people misunderstood those prophecies, thinking their Messiah would be coming to free them from Rome's oppression and restore them to their former glory.
They soon realized that Jesus was not going to meet their expectations, so they turned against him. (People, huh?)
I admit it. I have expectations today for God's promises about  work, family, finances, health, peace.
How about you?
What if prayers are not answered just as expected?
Can we still trust that God loves us, and cares for us, and wants the best for us?  How do we lay aside expectations, and walk with God all the way to the cross? And beyond that to eternal glory?
Heavenly Father, Life is good, but it is filled with hard moments.  Just a glimpse of you is all I ask, to know you better and to trust you more.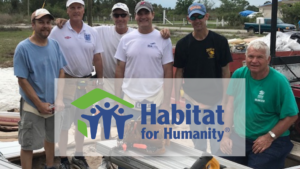 Habitat Build 
North Naples Men serve together the third Saturday of every month building homes with Habitat for Humanity.
For more information on getting connected to the United Methodist Men and/or North Naples Men, please email Pastor David Ames.